2019年10月26日
Fun Ride on November 17th! – Enjoy Fall Colors! –
          ~ Let's take a bike day trip with us! ~
Enjoy fall colors!
➡We've done it! Check out the report!☞【Enjoyed cycling and autumn colors!】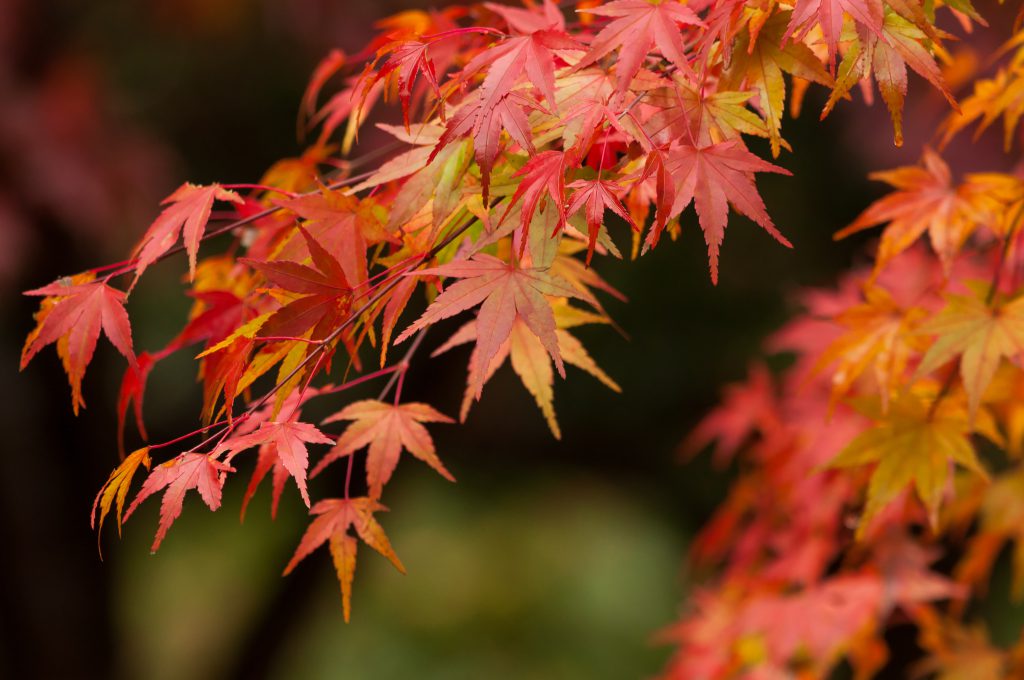 We'll have a "Fun Ride" in which we staffs and you enjoy cycling together!
We made a cycling plan for
Eigenji Temple
in Higashiomi. Autumn season is there, so why don't you enjoy the colorful leaves? Red colored leaves and temple is so scenic! And the autumn air is comfortably cool, it's the best chance to ride around and you'll feel great by cycling!
Since we staffs go with you, you can ride easily without getting lost.
"
I'm interested in riding a sport bicycle.
" "
I want companions who enjoy cycling together.
" "
I'd like to get more information about cycling route around.
" If you think so, why don't you hang out with us!? ■Subject ・9 aged and over ・A person who will follow our instructions ■Date
November 17(Sun), 2019
■Time
10:00 am – 4:00 pm
■Meeting Point
JR Maibara station east gate
■Itinerary
Echigawa station(Omirailway)
–
Marguerite Station(Road station)
–
Eigenji Temple
– Echigawa station ■Ride Distance 34 km ■Fee
 FREE
※Admission for Eigenji Temple is 500 yen. Please prepare the budget for the admission and lunch, etc.
■Rental Bicycle If you don't have your own bike, you can rent our rental bicycle. Please let us know that at the application, if you'd like to rent one. (Cross bike:5280 yen / Road bike:6380 yen ) ■What to bring ・Bike & Helmet(Wearing helmet is necessary) ・Clothing for outdoors ・Drink ■Number of Participants Maximum 10 people ■In case of bad weather.. We make a decision according to the weather forecast two days before that day, and let you know if the event will take place or not. ■Our Wish
This is just a ride event in which both we and participants enjoy cycling easily. It's not an official paid tour, so we won't get insurance. Thank you for your understanding.
・Please get insurance by yourself, if you would like to do.  ➩Recommended insurance: 1DAY Leisure Insurance by LINE(500 yen ~)   
https://www.ms-ins.com/personal/travel/oneday/
■Application For an application, please let us know the information below via email, phone, or SNS message. ●Name ●Phone number ●Email address ●Rental Bike Use or not
※Application deadline※ ➡November 15(Fri)
■Application and Inquiries
BIWAICHI RENTAL CYCLE
Phone:090-3863-8453 / Email:mail@biwaichi-cycling.com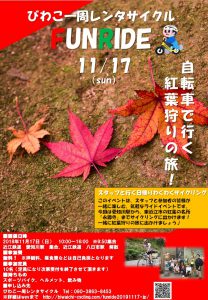 カテゴリー: news。

2019年10月10日
Temporarily close due to Typhoon Hagibis approaching
Thank you for using us always. A powerful typhoon " Hagibis " is coming now. According to the weather forecast, the typhoon Hagibis will hit the Kansai region, including Shiga prefecture, this Saturday on October 12th. Therefore, we decided to close our shop on October 12th(Sat)temporarily. Thank you for your understanding. ★It is predicted that the typhoon will cause some damage here in Shiga prefecture. Please catch the latest information.
カテゴリー: news。