2019年6月4日
The Rainy Season Promotion 2019 Now !
The rainy season promotion will come again this year! We have provided this unique promotion every rainy season, since customers looked fun and got excited with rolling a dice.
In the rainy season, the condition becomes a little difficult for cycling. So, we arrange this promotion for those who would try to cycle despite of the rain. We would like them to pump up their motivation by getting a free service or a present as follows!
Let's enjoy!
★ This promotion period is limited in the rainy season from June 8(Sat) to July 19(Fri) in 2019★
~~~~~~~~~~~~~~~~~~~~~~~~~~~~~~~~~~~~~~~~~~~~~~~
Special 1: Get a present or free option service!
●Let's roll the dice !
➡You will get one of six services or presents! We prepare one service or present according to the number of the dice.
You might get a service of "500 yen OFF the rental price", if you're lucky!(depends on the number of dice!)
Special 2: Fender for free !
●Usually our rental bikes don't have a fender.
➡When you use our rental bike and it's rainy, we attach a fender to your bike for free.
Special 3: Cancellation fee becomes free when it rains.
➡Only during this promotion, the cancellation becomes free only when the reason is the rainy weather.
~~~~~~~~~~~~~~~~~~~~~~~~~~~~~~~~~~~~~~~~~~~~~~~ ⇩The view of plum blossoms algae blooming in Jizogawa river, that is flowing in Samegai Town, where is 5 kilometers to the east of Maibara station. A good spot worth visiting by bicycle!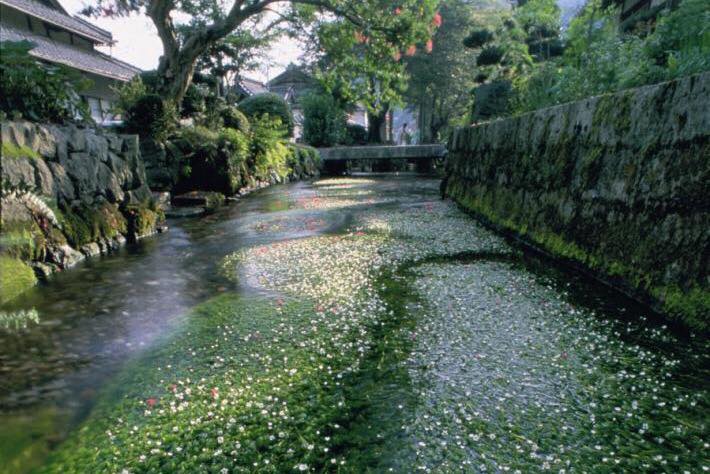 ⇩So pretty flowers in clear water.You can see them only in summer season. About the flower ➡ 
http://kitabiwako.jp/spot/spot_362/